Fully automated reporting
Create detailed, fully customizable reports in one click
Build custom dashboards, analyze surveys and create templates for future reporting using VisitBasis x Google Data Studio integration. Our automated reporting tool exports data from your VisitBasis account into Data Studio, allowing you to produce reports and build visualizations in minutes.
With VisitBasis, you can examine surveys and carry out analysis, using adjustable parameters – analyze only what's important to you. Once your custom report is done, the system will automatically update it, as reps submit more field data. Forget about using complex spreadsheets and 3rd party analytics systems with our fully automated reporting tools.
Capture field data


Frontline users collect data using VisitBasis mobile app. Every piece of information gets automatically exported into your VisitBasis account and can be accessed through Google Data Studio x VisitBasis integration.

 

Create custom dashboard in Data Studio

Select parameters to include in your reports. For example, Data Studio can analyze information from reports by Assignee, Scenario, Place and so on. Produce custom dashboards, which will automatically update with information from your mobile agents' reports.

Produce and share reports

As soon as your report template is created, view data visualization, change the time frame to track report trends, view location of places on a real-life map and make changes at any time. Download your report as PDF, share it with your colleagues via email, accessible link or invite them to work on it collaboratively.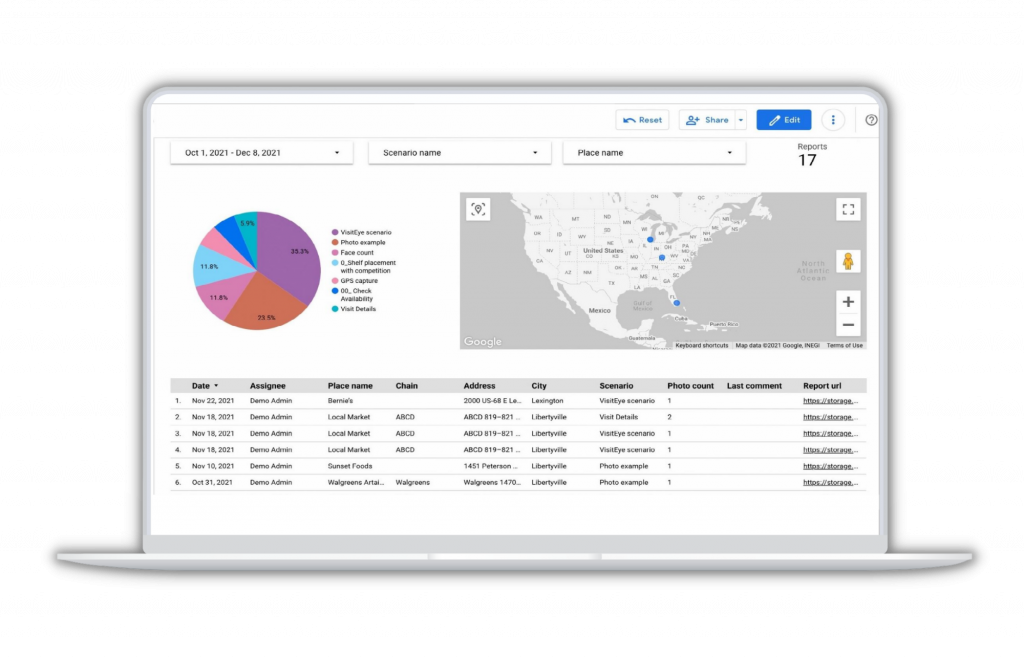 Access real images of your products in stores at any time
Gain trustworthy and accurate insights into product presentation at any store. Create surveys with photo answers and take photographs while on a visit, using VisitBasis mobile app. All images will be automatically linked to a Report and can be accessed in your VisitBasis account at any time.
Long gone are the days of emailing and messaging in-store images – VisitBasis collects, stores and organizes report photos in one place. Retrieve photographs whenever needed using our searchable gallery, share PDF of reports and separate images.
Create surveys
Create surveys using our Form Builder tool and add questions with a Photo answer type. Choose how you want images to be uploaded – using a camera or from a phone gallery. VisitBasis surveys can combine both photo questions and other types as well, meaning less forms for mobile reps to fill in.

 

Capture in-store photos
Install VisitBasis mobile app on a mobile device and take in-store photos using a camera. We ensured that the mobile agents will not upload fake images by installing special fake photo detection technology.

 

Browse, edit, download and share photo reports
After mobile agents upload photos, you will be able to view them in your VisitBasis account. There, you can view separate images or whole photo reports. If, when browsing images, you have a comment to pass to your agent or even a one-off task to complete, simply create a ticket right from the photo section.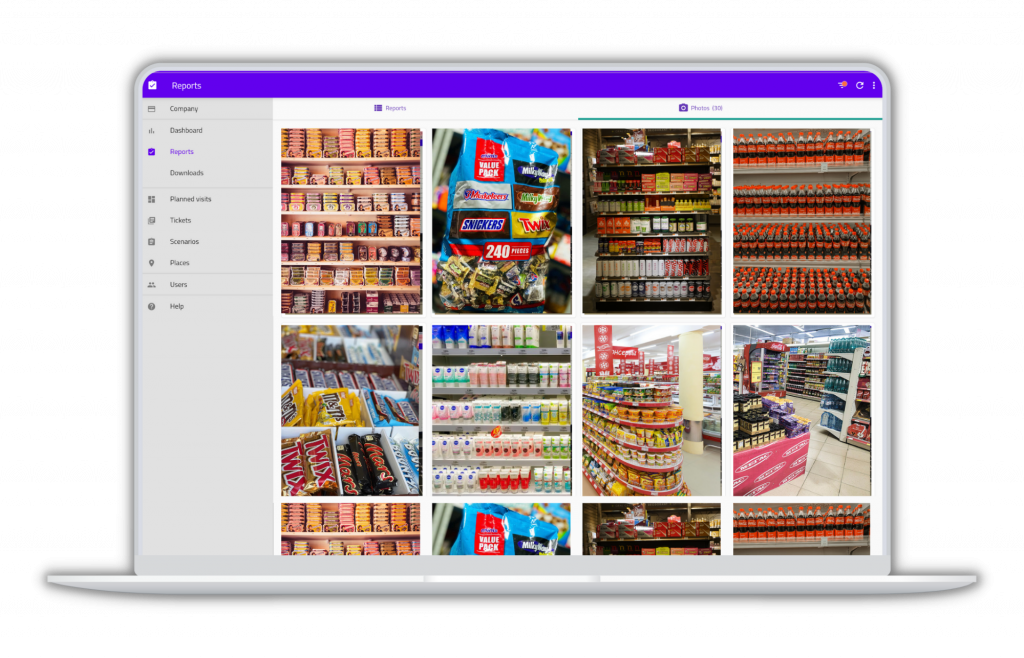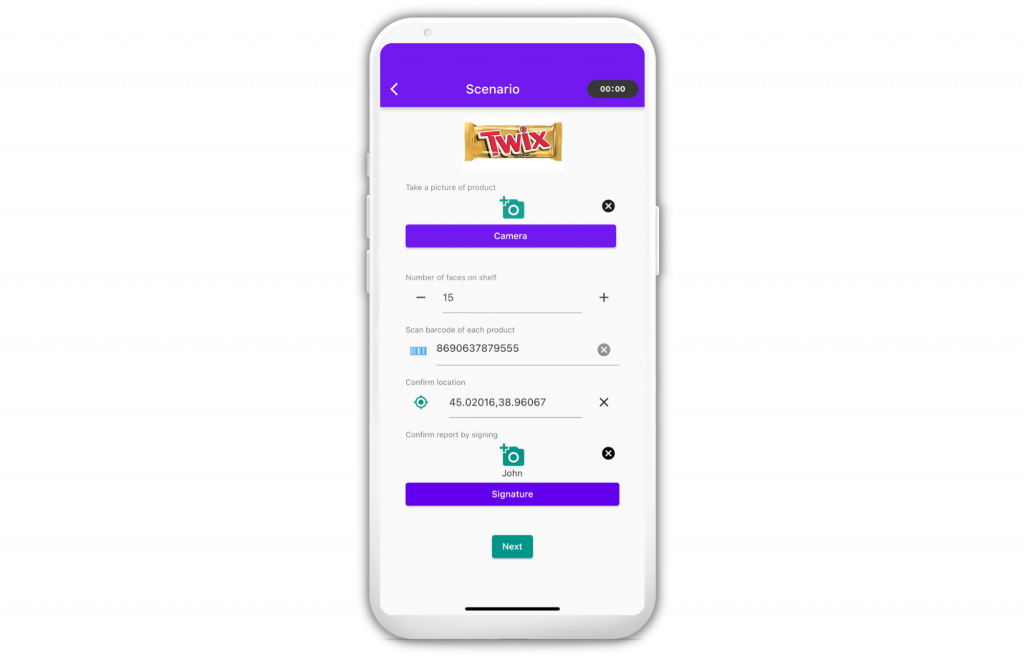 Form builder with rich data types and conditional logic
Access real images of your products in stores at any time
Watch closely your products' representation in store, using photo tasks and other types of collectable field data. VisitBasis integrated the Form Builder tool, which offers a simple survey building process and pre-selected answer types with 16+ kinds of data for mobile users to input. Link answer options to different sections to ensure smooth and coherent transition throughout the form.
Filling out surveys won't be a challenge, as VisitBasis mobile app's intuitive interface makes it possible for mobile agents to easily and quickly input all sorts of information. To avoid human errors, enable data validation, while creating a survey in the Form Builder tool. And don't worry about not having an Internet connection, our app works offline too!
Use Form Builder to create a survey
Use our Form Builder tool and create forms without an extra effort. It offers a variety of question types and optional question-specific features aimed at increasing the precision of agents' answers, such as Response validation, Question description and so on.


Include questions with 16+ data types
Fill out forms using mobile app
Send reports to office
Product image recognition
Produce real-life market insights, while making more visits per day with AI powered technology able to capture products on images
Boost your mobile agents' visit speed with VisitBasis Product image recognition technology. Our system automatically extracts face count, share of shelf, competitor brands and more from in-store images. 
After thorough image scanning, VisitBasis stores the collected raw data and allows users to produce reports with shelf analysis. Empower your agents with Product image recognition and conduct store analysis 2 times faster than before.
Take photograph in store

VisitBasis AI powered technology detects and analyzes products

Access collected information 

Produce and share reports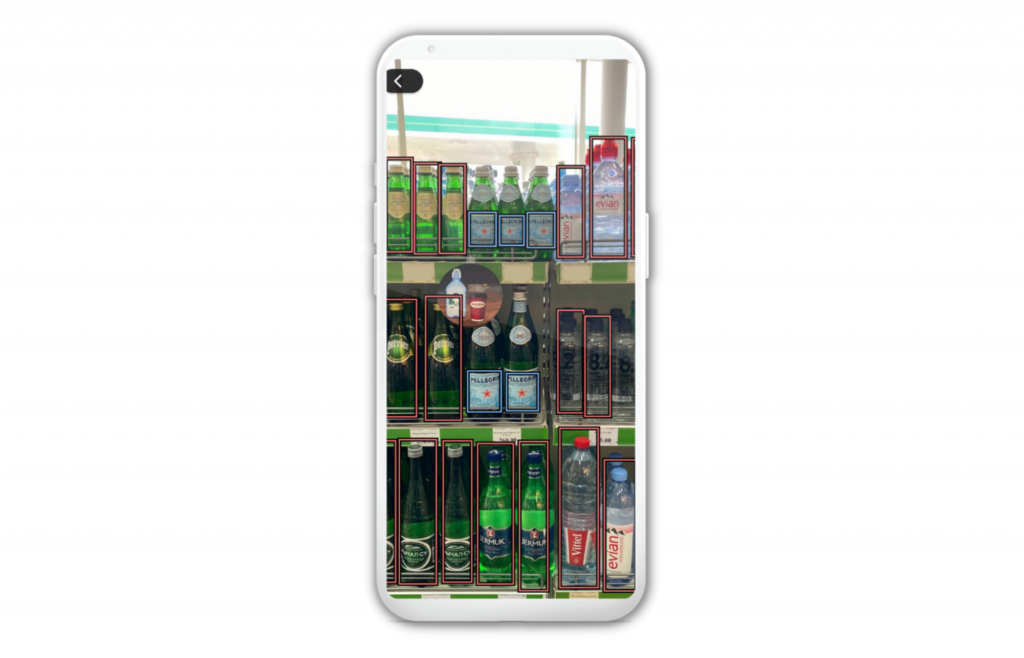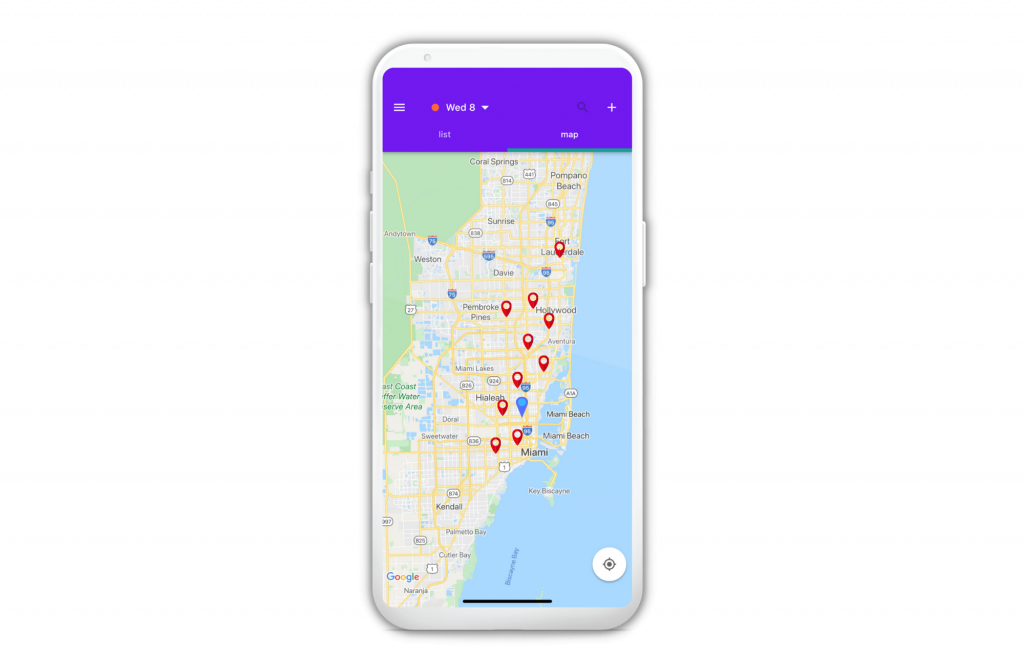 Choose a workflow that suits your business needs
Managing many agents' schedules simultaneously can be cumbersome, but VisitBasis makes it simple to create schedules and assignments. Use schedules, assignments and tickets to create hundreds of visits in just a few clicks or plan for reps one by one. Take use of Smart places to better distinguish between chains and retail locations. 
Mobile agents can easily access their planned visits on VisitBasis mobile app. Each visit in their calendar will show the exact location on the map, calculate the proximity to it and provide details about scheduled tasks. Reps won't wonder which place to visit first, our system will automatically work out ultimate routes for them.
Create an Assignment

Create a Schedule

Plan visits