As most businesses continue to progress through a digital era, retail merchandising doesn't lag behind. Retail audits, which have always been associated with never-ending paperwork, are becoming digital too. Merchandising apps grant faster data collection than before and greater reliability of the gathered information. Companies that use the VisitBasis mobile merchandising app report a tremendous 61% increase in reps' productivity and a significant improvement in the reliability of received data.
Traditional manual data collection
Before the appearance of merchandising apps, companies in retail utilized various data collection tools – online forms, paper forms, messengers, etc., which, perhaps, did their job, but, at the same time, certainly over-complicated the process. Is there even room for productivity improvement when managers have to use one system for scheduling visits, a second one for producing task forms, and a third for photo capture? Not to mention that confirming location where such reports were generated was nearly impossible.
VisitBasis mobile merchandising app
VisitBasis mobile merchandising app provides a diverse scope of tools and instruments for coordinating and managing field agents' work and data collection. Making life easier for mobile reps means better productivity!
Works on all agents' smartphones and tablets;
Create photo and product reports;
Quick and uninterrupted report creation, even when working offline;
Managers able to see submitted reports live;
Shows optimal routes for agents;
Prevents from data entry errors;
Cloud storage of data.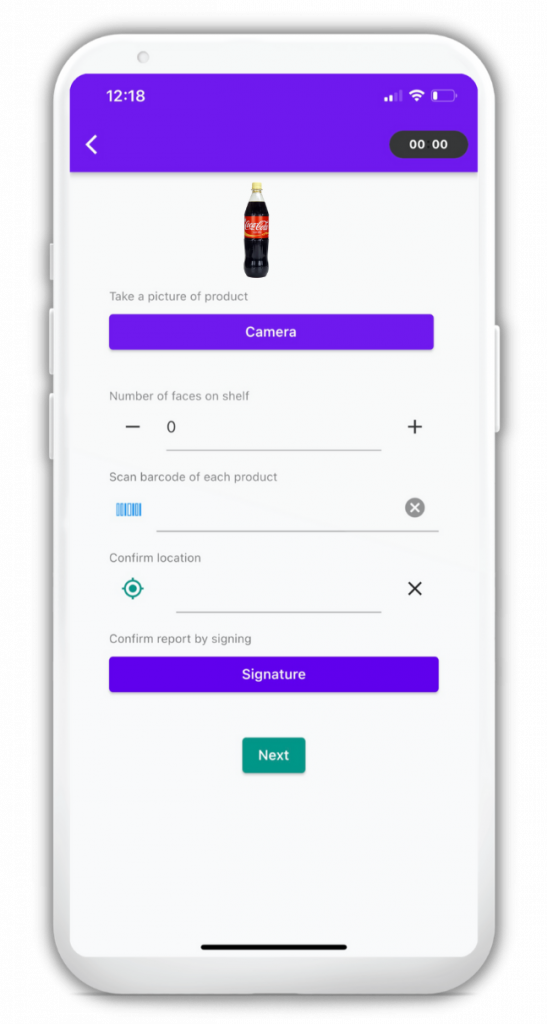 Simple interface
Right after downloading the VisitBasis mobile merchandising app, users can proceed to utilizing it and completing scheduled tasks. The intuitive and simple interface leaves no room for human error because it's very easy to figure out. The app is 100% reliable and works very fast, facilitating quicker data collection and helps improve reps' productivity.
Supports online and offline work
The Internet connectivity won't get in the way of data collection, because the app works both online and offline. Reps can collect information without having an active connection to the Internet, the app will automatically synchronize data once the connection is restored.
Easy-to-use
Unlike other systems, VisitBasis offers an easy-to-use merchandising app, which requires no training. Field reps usually can figure out the app independently and become familiar with it after only 3 days of usage. The app is compatible with all Android and iOS mobile devices, meaning field reps can even use their own devices in the fields.
Collects different data types
Mobile agents won't need to use multiple tools to collect different types of data because the VisitBasis app allows collecting 16 data types within a single form. Create forms that feature products, barcode scan, photo capture, simple text entry, GPS position, timestamp, conditional logic, answer weight and many more. There are even multiple options for simple numeric information entry to ensure a faster form filling process for field agents.
Fraud prevention
If traditional manual data collection didn't offer a way to confirm reps' visits, the VisitBasis mobile merchandising app offers multiple fraud prevention tools. We installed the Visit Validation and TrueTime features to provide you with extra data reliability. When using the VisitBasis app, you can always be sure that the reports were submitted at the right location and at the right time. And our Fake photo detection feature will spot if an image was sent to the office using fraudulent software.
Watch VisitBasis mobile app on YouTube to find out more information about our mobile merchandising app.